*We have an industrial ionizer filtering the studio air in regular intervals and 17' ceilings that provide lots of air space.

Studio Location: 1305 Russell Bend Rd Studio/Barn, Weatherford, Texas 76088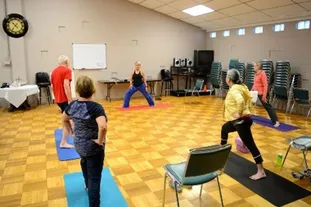 Senior/Beginner/Chair
Basic but can challenge students to meet their own personal needs, recoveries and abilities. Much focus is on balance, breathing and maintaining a healthy musculoskeletal system to keep the body strong and confident. Students have found daily activities less strenuous with regular practice. Most postures can be done standing or sitting - your choice!
Tuesday 8:45 - 9:45 am Circle Y Yoga Ranch Studio
---
Gracefully Fit

Inspired by faith to the practice of breathing, postures and meditation, Gracefully Fit is an opportunity to engage in exploring self-awareness, healthy movement and encouraging reflection. By slowing down and finding balance and strength in our physical bodies, we cultivate a gentle path toward stillness and peace within so to enjoy the multiple graces in our lives and be more at ease and present in today's challenging world.
Tuesday 11:30 - 12:30 am St. Stephen Catholic Church Holy Spirit Center Rm 4 1802 Bethel Rd, Wfd 76086 behind back parking lot
---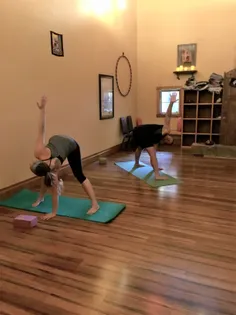 Mixed Level
Students move easily at their own pace exploring, discovering and evolving ranges of mindful movement. Some sequences use the wall, blocks and straps to support and strengthen postures. Building more body awareness allows students to confidently challenge themselves to new levels!
Wednesday 10:15 - 11:15 am Circle Y Yoga Ranch Studio
---
Mixed & Foundational Flow
This is a restoring practice of de-stressing breathing techniques and vinyasa yoga flow movement. Build a solid base at your own level, mastering basic yoga forms and re-patterning the body to build strength, balance & flexibility.
Students move and repeat sequences ending in a relaxing restorative pose.
Flow movement educates the body and muscles to move in expected ways growing strength and mastery of each form. If you are looking to learn sequences to practice at home, this is a great class to build this knowledge base with confidence!
Thursday 4:00 - 5:00 pm
---
TRAUMA-INFORMED YOGA
Learn to heal and get re-connected with your body through
intentional movement, breathing techniques and guided meditation practices.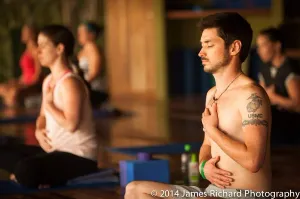 Warriors At Ease Monday 1:30 - 2:30 pm
WAE is a closed group class for veteran/active duty & 1st responders.
Healing…Freedom
Healing ... Freedom classes help with gaining back courage and strength from grief or loss of something. If you are interested, please send message.
Symptoms of trauma have infiltrated into the lives of civilians, military persons, 1st responders and their families. *Studies show yoga and meditation helps combat the effects of post-traumatic stress.

"Deliberate engagement of the autonomic nervous system (via breath, movement and meditation) may help individuals with trauma histories recover and re-balance their nervous systems after exposure to a stressful circumstance or environment cue." (Justice, Brems, Elders (2018) Bridging Body and Mind: Considerations for Trauma-Informed Yoga)
Trauma is an all too common experience - life threatening situations, a move, pet dying, car accident, job loss, friend or family member passing - anything that does not make you feel safe or re-occurs - can effect ongoing stress or depressive states if not released.

We all process situations differently. Trauma-informed yoga offers an array of techniques to explore and practice tools to help move through recurring, triggered situations.
If this sounds familiar, these classes can help you help yourself. Together, we can expand the circle of healing and transformation!